Background
I have a passion for mathematics. This passion was ignited during my A levels (last year of high school), mainly because of the superb teachers, for which I am grateful. My chosen A level subjects were were Maths, Further Maths and Physics, so you can imagine how geeky I was. Being a programmer, I could see how the topics that I was studying could be automated. Utilising C++ and diving into .NET, I created a calculator application, that could essentially check my homework for me.
For example, have you ever wondered what x was in the following formula?
cos(sin(π√x + 42))² = tanx
Of course x = 0.646742073183834, but how would you know without using my miraculous calculator?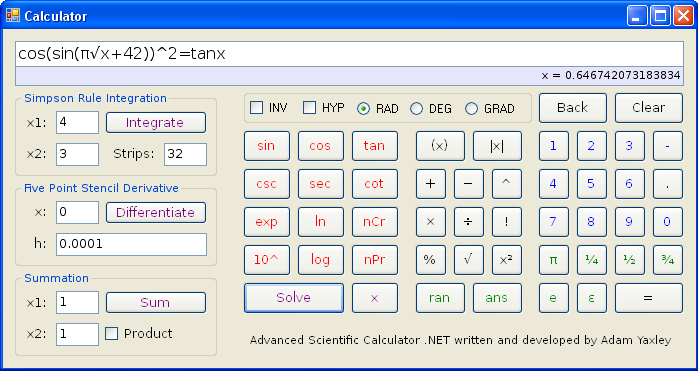 Features
Integration approximation
Differentiation approximation
Iterative equation solving
Summation functionality
Trigonometric functions
Logarithmic functions
Correct operator precendence rules
Human friendly input (can write 5x to mean 5 multiplied by x)
Highlight an expression and click on the (x) or |x| button to wrap it in parenthesis.
Support for Degrees, Radians, and Gradians.